Visited the blackfriars distillery in plymouth, england last week for one of their "gin connoisseur" tours followed by a session at the onsite "refectory" cocktail bar.
the tour lasted about 1 1/2 hours - a quick history of building (supposedly the last stop for the pilgrim fathers before crossing the pond), the origins of gin, brand history, then into the distilling room for a run through of the distilling process.
after that you're taken through into the tasting room for a blind tasting session of 5 different gins ( though they have at least a hundred different bottles in there I was alittle disappointed that they mostly chose "supermarket" gins) the 5 were gordons, hendricks, beefeater, bombay sapphire and plymouth. you're given 5 covered snifters with a sample of each which they get you to water down to roughly 20% abv. then you're given samples of the botanicals used in plymouth gin to crush and get an idea of the flavours to expect (juniper, cardamon, orange & lemon peel, coriander, angelica & orris root) before trying the "nose" of the gins in turn, follosed by a taste of each. other than plymouth I have to say that all the others were very one dimensional in both tests gordons heavily juniper led, hendricks flowery but no juniper taste at all, beefeater quite bland & sapphire overly spicy. whether by accident or design the plymouth stood out - juniper but then sweet citrus nose, and a powerful citrus taste ending with with smooth juniper & spice. it was a clear favourite over the others.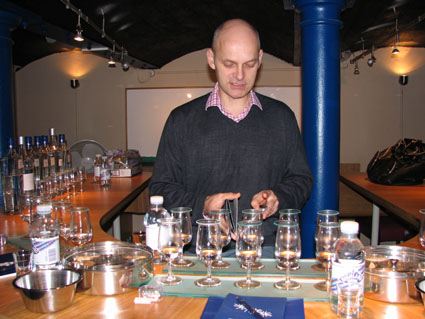 Would have loved to have been able to try a few more of their bottles, we managed to get one little try of a spanish gin called "Mare" flavoured with rosemary, thyme, basil & olives as well as the more usual botanicals, unusual - would like to try it in a martini.
after grabbing a bottle of navy strength gin(57%abv) in the gift shop - where you guys would spend a small fortune, lots of the chivas brothers top shelf brands including some single malt discontinued & cask strength whiskies (£200-400 each) we headed up to the refectory bar. complimentary G&T,followed by a half dozen classic cocktails - negroni / manhattan / whisky sour/ dry martini / ramos gin fizz & a martinez. wobbled back to the hotel via another bar or three, and woke with enough of a hangover to know it was a good night! highly reccomend this tour if you're in the vicinity (bar is members only fri-sat though unless you're in there already from the tour)
(also went to a cider & cheese festival plus a beer festival in the same week, it was warm,sunny & never rained - thats hitting the jackpot in england!)